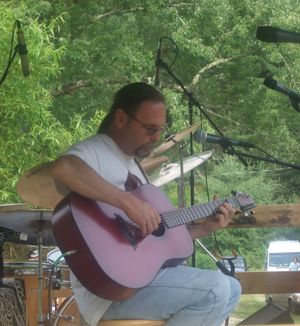 On Saturday, we begin with an open acoustic jam.  Performances then begin at noon with a different artist every 30 minutes.  As is the custom, everyone who participates donates their time and talent to make this home-party a success.
As most know, there's no cost to attend, however a minimum contribution is suggested for the featured non-profit and periodically throughout the weekend we will pass the hat around to increase the kitty. Every penny contributed goes to the non-profit as beneficiary! 
In addition, many of the artists who are performing will be selling their CD's and your generous support of their talent is encouraged!
Our two stages are back dropped by mountains in a gorgeous Blue Ridge hollow with fantastic natural acoustics. There's 53 mountain acres with lots of great places to hike and camp.  If you decide to camp you will need to bring your own gear....it's rustic..bugs & critters. Sorry, we can not accommodate camper-trailers on our property; however there are campgrounds near by. If you are not a tent camper but want a place to stay, drop us an email and we'll send you a list of the local B & B's and hotel/motels in the area.  

If this is your first time out to our place email us for directions.

NO PETS!  Seriously!
It's a rain or shine occasion.  Dress for comfort…hot by day/cool at night. We recommend lawn chairs, picnic blankets and sun protection.  BYO whatever libations & day-foods you enjoy (we'll provide water, lemonade & snowcone making by day, coffee by night).  
Dinner is potluck at 7pm-ish and EVERYONE is asked to bring something to share.  After dark we will set the bonfires, light sparklers, eat Smores and rock on into the night. 
On Sunday morning we'll perk the coffee, stoke the campfire and set out a light breakfast (it's on us!) for those who camp over. Music may organically combust as earlybirds rise.  The festivities come to a close around 1:00 PM on Sunday.
Your email RSVP is greatly appreciated, and we promise not to share your email and only to send you updates to keep you in tune as we approach the party.