Welcome to the Community of Azurat
Azurat 2022 on our minds! 
Dear Friends,
As much as we had hoped we might hold our Azurat gathering this summer, the timing of the state's decision to open did not coincide with the planning schedule we need to set things in motion, so is another bridge year. We miss you all and are determined to try again next year, hoping that the world's health will be in alignment with us! 
Although the Azurat gathering passed us by, we were not idle over this 4th of July holiday as our kids & grandkids, showed up to honor Richard with the amazing birthday gift of power-washing and staining our house. No small feat! It was an amazing, whacky, exhausting week full of laughter as everyone made it happen.  What a fam!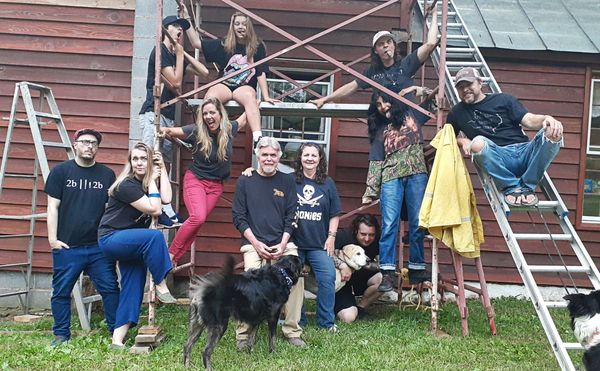 NEW! Sherri is now the booking manager at the Osceola Mill, located in the town of Vesuvius, VA. If you are a musician/performing artist, ready to get back in front of an audience, please get in touch with her ASAP (Click Here)!  See upcoming shows at the Mill below.
ARTISTS ARE ESSENTIAL WORKERS OF THE SOUL, and we are immensely thankful for all who appreciate the creative investment they make, providing us all with their talent! 
WE MISS YOU ALL and hope you are safe, healthy and that we'll be able to gather again with you in 2022.
Warmly,
Sherri Smith & "Family"
(RW, Fran, Joe & Joan, Marc & Ellen)